INTERNATIONAL AIRBRUSH FESTIVAL
AT THE OLD MINDERBROEDERSKERK IN MECHELEN
2016
Organisation : Int. Art Society ORCA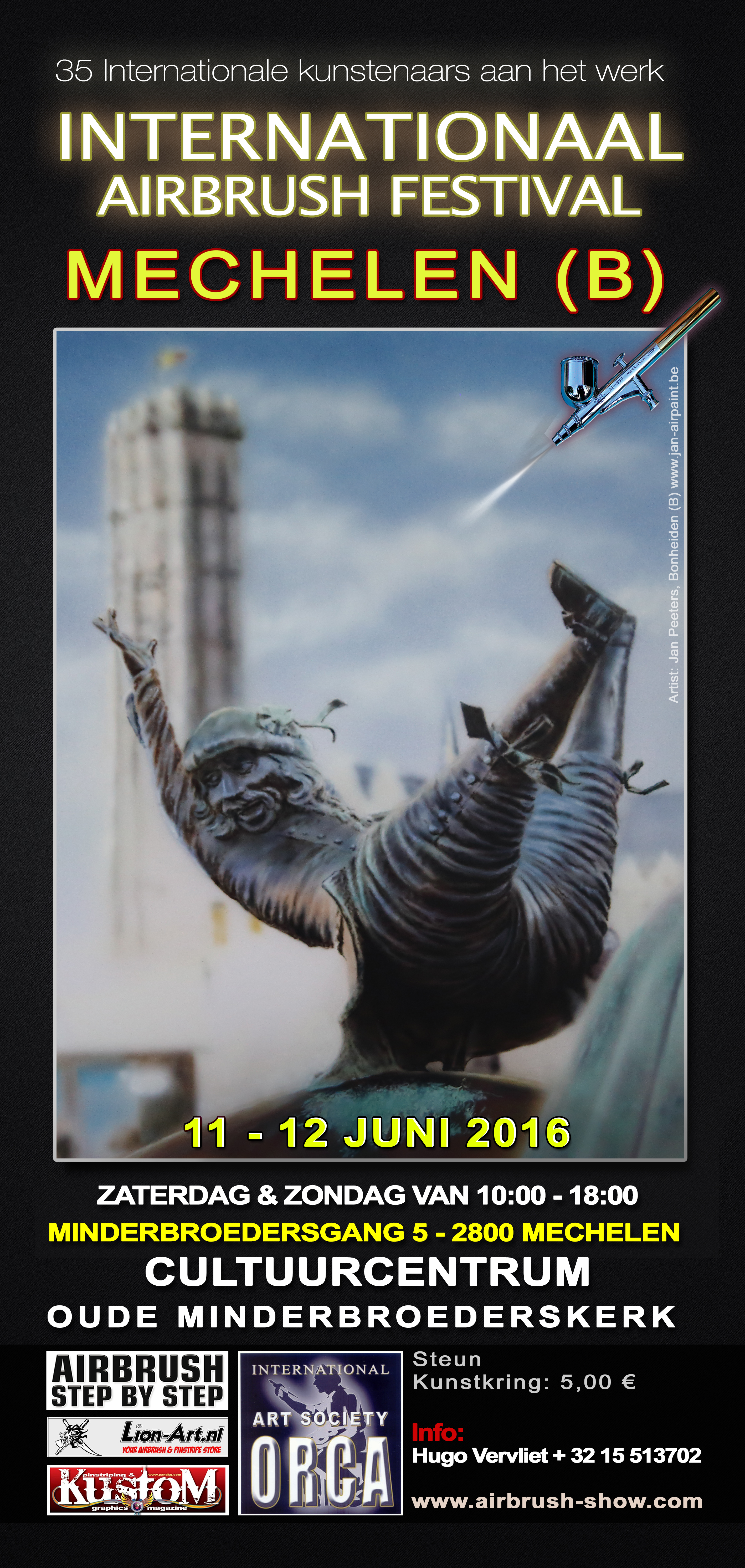 For the thirt time we are at a beautiful location, the Cultural Centre of Mechelen, meaning in a church originating to 1304: the Old Minderbroederskerk. It is located in the middle of the medieval city of Mechelen, at 50 meters from its impressive Sint Rombouts cathedral and 100 meters from the market square. We found this church ideally suited for our international airbrush exhibition which we organise since 1995 in Belgium.
This year we did not only select 35 international artists…
Airbrush is a form of art which exists already for ages but… airbrush is not only what you know from decorating cars and bikes however especially on canvas and other materials, all the aspects of airbrush are put into their own value.
What makes this Airbrush Festival most of all special, is its active character. All these artists, do not only display their work already made but also create a new one there and then.

Meaning the visitors of the Minderbroederskerk walk not only in a large art gallery but also in an immense workshop, where artworks come into existence. This workshop atmosphere brings a spontaneous communication between artists and visitors.
Next to the cathedral an underground garage is located right opposite our Festival.
The practical side is also taken care of because as well artists as interested people can get information here, exchange ideas and purchase materials at favourable prices at the stand of the well-known art shop "Lion Art" of the Netherlands.
The international Airbrush Festival is open to the public
Saturday from 10:00 till 17:00h and Sunday from 10:00 till 17:00h.
Supporting the ORCA Art Group is € 5.
For more info
Hugo & Daisy Vervliet  :  +32-(0)15-51.37.02 and +32 (0)475.36.63.34